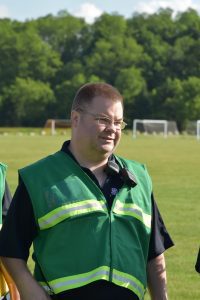 Peter Brodie brings 25 years as an emergency medical technician (six years as an AEMT-CC), a degree in health systems management, in his eighth term as Captain of the Duanesburg Volunteer Ambulance Corps, various terms on the Schenectady County EMS Committee where he has served four terms as Chair, was honored as the EMS Educator of the Year in 1995 by Schenectady County and presented the Weber Leadership Award by Schenectady County and the Hudson Mohawk Regional Emergency Medical Services Council in 2015. Brodie also served nearly four years as an emergency medical technician (and AEMT-CC) with Mohawk Ambulance Service and six years in the same capacity at the Greater Amsterdam Volunteer Ambulance Corps (where he also served on the board of directors as vice president and in the volunteer leadership team as volunteer supervisor).
As the strategic relationship developer, key contract manager and a resource for both event management and training clients, Peter brings his detail oriented focus, consummate documentation and planning thought process and strong client relationship skills to strengthen organizational relationships.
EMTS NY, LLC is a successor organization to BHR, LLC. When the partners of BHR decided to dissolve, Peter wanted to continue with the work and brought on his new associate Adam Fink.